Welcome to
Wadi Rum Desert
happy BEDOUIN experience
All our tours and sleeping you can also book in AIRBNB
Seeping under the stars in natural cave or Beduin style camp + amazing full day 4×4 tour through the magical desert to see all natural marvels of Wadi Rum Protected Area Desert.Camel ride, Sand Boarding, climbing, hiking… we make yor wish come through.
You can check it all in AIRBNB and book with us.
To AIRBNB booking
Jeep Tours & Camp & Stars…
Would you like to experience BEDOUIN lifestyle? Driving through the desert with a BEDOUIN explaining all? Sleeping in authentic BEDOUIN camp or in a CAVE in the heart of the desert where you can see the Milkey Way and other Galaxies? Eat delicious food cooked by the fire or UNDER THE SAND, as Bedouins traditionally do? Trekking a day with camels, as the Bedouins did?                                                                         You will LOVE IT!
We have the best competitive prices for YOU only

Contact us  +962 777 822 629 for YOUR special offer
In English, Po Polsku, Auf Deutsch, In Español
♦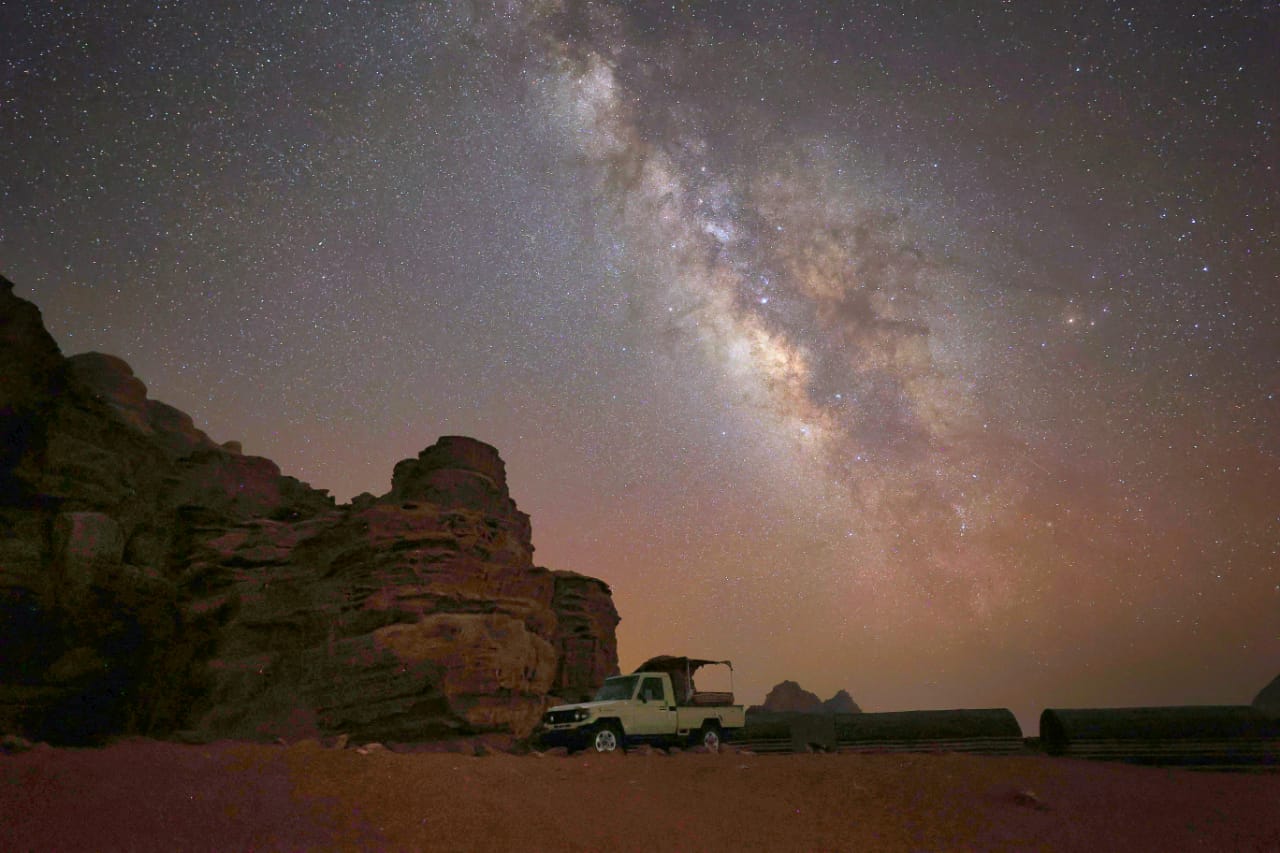 The experience in the desert with Eid Albloe was wonderful!!! Eid took care of us all the time, he took us beautiful photos and showed us amazing landscapes where some of them were outside from the classical tour. Everything was amazing! The camp was also very comfortable and very good price. We have a lot of fun!! Eid is the number one! For sure we will come back to enjoy wadi rum desert experience with Eid again!!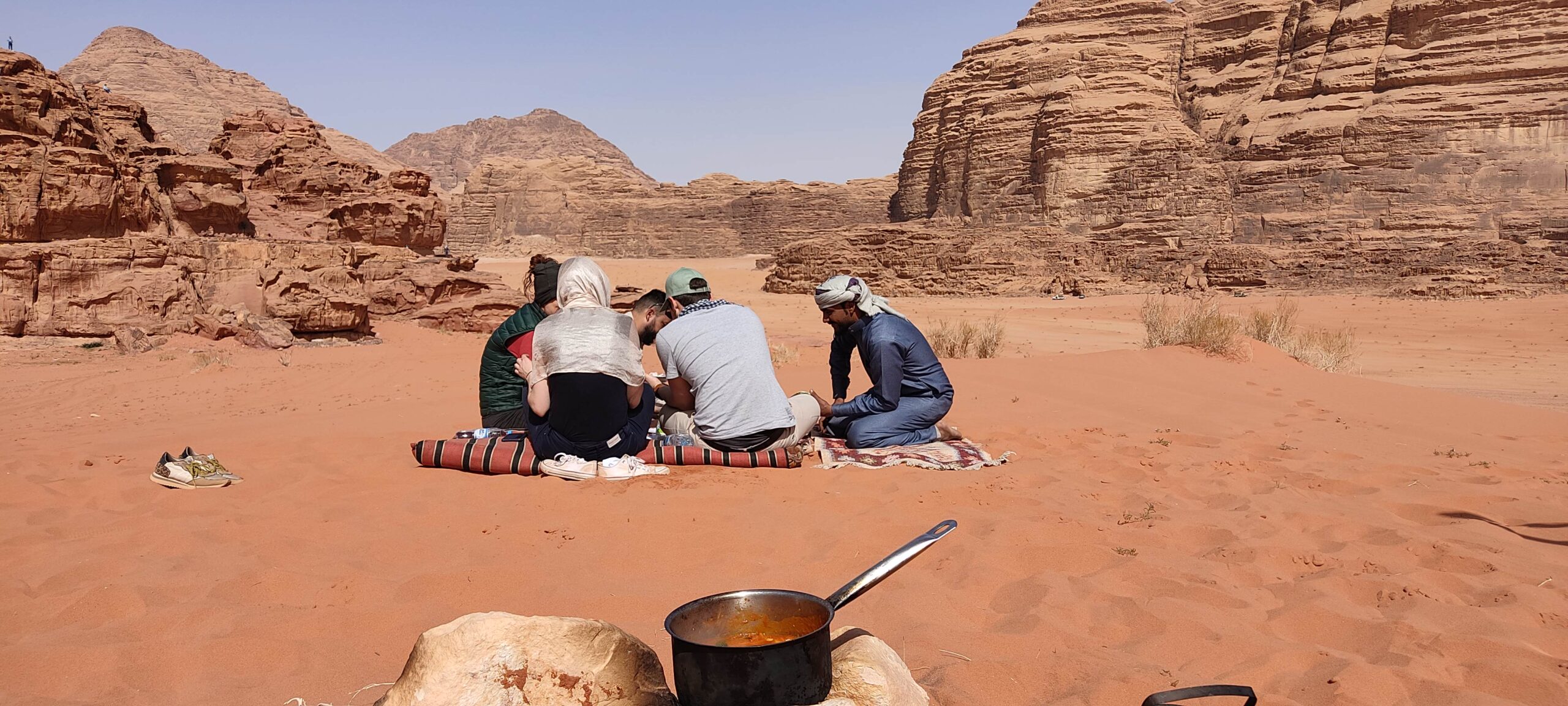 Wadi Rum Desert – our HAPPY Bedouin tours
Our JORDAN retreat
We can organise your Group RETREAT with amazing activities.

Contact us  +962 777 822 629 or +34616357321

YOU will LOVE it
In English, Po Polsku, Auf Deutsch, In Español
♥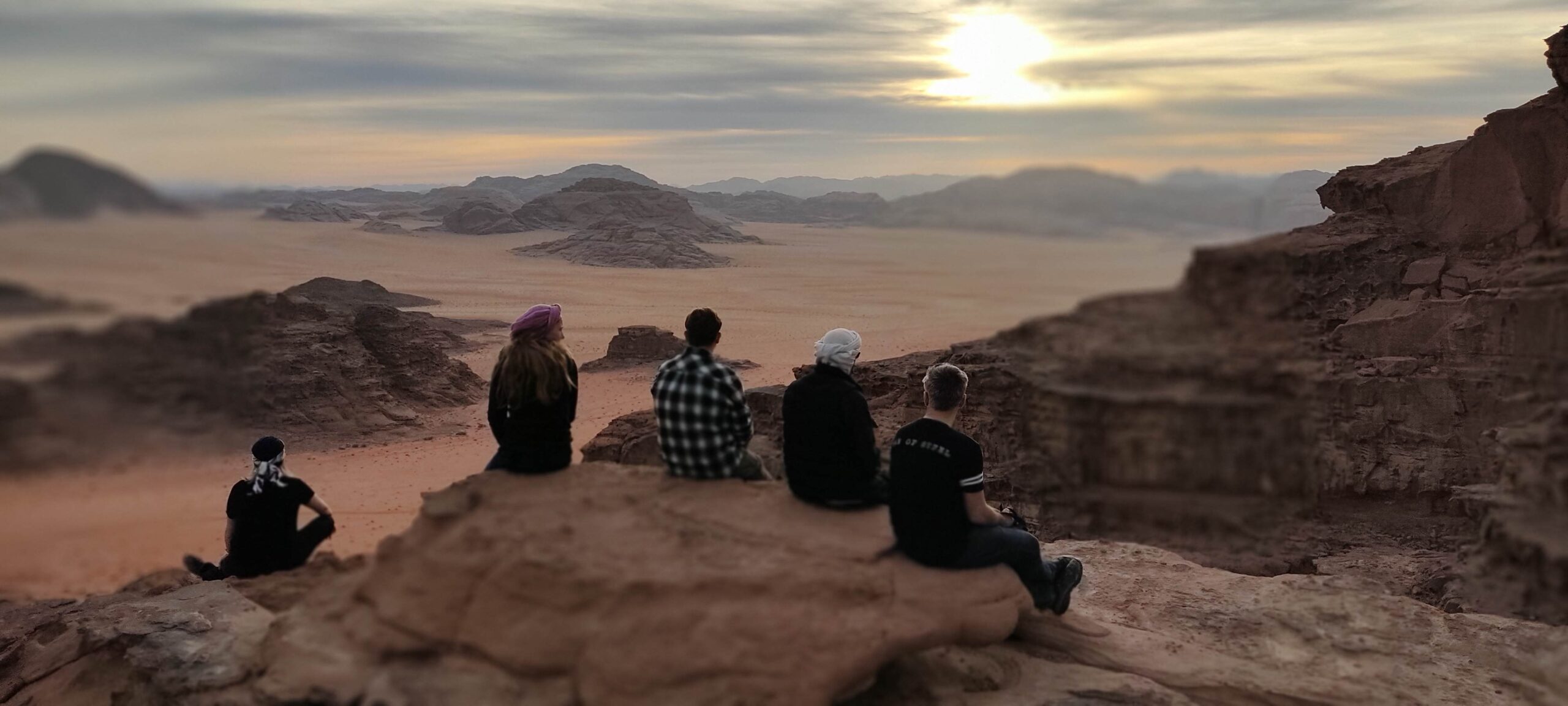 ♥ Our camp ♥
Sleep in OUR Camp or Under the Stars
♥ Come and enjoy the beauty of the desert by night ♥

Wadi Rum Desert – natural marvels


The 2 days we spend with Eid & Karolina were extraordinary. The two made everything possible to make our stay as comfortable as possible and planned the 2 days according... read more to our personal preferences. They even picked us up at a different meeting point, since we had to change plans last minute. We could also rearrange our booking very easily and in the end sleep one night in the camp and one night in the cave. Like this, we had the best experience in Wadi Rum. I was very afraid of the cold nights in November but Karolina even borrowed me clothes, so I was never cold! We think that a tour with Eid is really unique compared to other guides, because sleeping in their cave one night is a once in a lifetime experience and Eid's cooking is amazing!

SophieSolaire


22 November 2022

Eine Erfahrung fürs Leben - Wer dem Alltag entfliehen will und die Menschen satt hat, der sollte unbedingt Eid besuchen. Er zeigte uns Orte wie aus einem Traum von 1001 Geschichte. Auf einmal wurden Gedanken... read more auf das Wesentliche reduziert. Die Luft ist so rein im Wadi Rum, kein Laut...absolute Dunkelheit. Die Schönheit der Natur und Eids Freude sie uns in allen Schattierungen zu zeigen, liess sämtlichen Stress von uns abfallen. Wir blieben 3 Nächte und machten zwei Tages Touren. Aber selbst bei unserer Ankunft spät in der Nacht, führte Eid uns mit Karolina noch zu einem special place und machte frisches Essen über dem Feuer. Wir unterhielten uns lange Zeit obwohl wir super müde waren, wurden sofort warm mit beiden. Danach folgten unbeschreibliche Tage die wir niemals vergessen werden...können. Und wir kommen wieder, aber dann schleppen wir die kids mit. Das müssen auch die erlebt haben, wir sind gespannt welche Wirkung die Wüste auf sie hat.Auch wenn zuviel Tourismus sicherlich nicht förderlich ist für das Weiterbestehen einer solchen Naturkraft wie das Wadi Rum, können wir es nur jedem empfehlen um wieder den Grund unter den Füssen zu spüren. Eid ist der Magier der Wüste und es gibt keinen anderen der das vermag. Er tut alles mit Herz und Seele, denn er liebt was er vermittelt.
Viele Grüsse Birte und Grigorios

129birteu


13 November 2022

Great experience in the amazing wadi rum! Spent a night in the camp in the middle of the desert and a full day tour with the jeep seeing all the... read more beautiful places wadi rum has to offer with the opportunity of small hikes and climbs in almost every place. Also tried sandboarding! Eid, Karolina and everybody else at the camp are super nice! Really good vibes and great food! Highly recommended.

Ciccio94


5 November 2022

Wadi Rum erLeben - Wir hatten 3 tolle Tage in Wadi Rum! Wir haben über Eid gebucht, den ich von der Facebook Gruppe positiv bewertete fand. Eid hat 2 Tage auf Kamelen organisiert. Sein... read more Cousin Ataja hat uns begleitet. Am ersten Tag waren es eher die üblichen Touristen Ziele, am 2. Tag wurde es etwas ruhiger mit Schluchten und Sanddünen. Die Kamele waren lieb und das reiten dieser geduldigen Tiere - vor dieser Kulisse- ein Traum !
Das Camp war sehr einfach aber toll gelegen, die Zelte sehr schön. Gemeinschaftsduschen sind generell nicht so mein Ding.
Nach 2 Nächten im Camp ging es im Jeep weiter! Einmalige Landschaften! Sleep under the Stars war ein unvergessliches Erlebnis! Eid und sein Kollege Meher haben alles ganz toll arrangiert!!
Eid ist ein ganz ganz toller Guide, der sich unglaublich Mühe gibt. Mit herzblut frei der Sache ist und alles optimiert um es noch besser zu machen! Ganz ganz toll! Danke Eid !

Ghosteffi


25 October 2022

Best experience of my life. I'll feel like I'm home. Highly recommend take the tour with these guy. It's not the usual tour, you will feel like living with the... read more beduins.

Eid it's super friendly, you will enjoy 100% this adventure.

Wadi Rum and Eid kept in my heart.

Hopefully I'll visit again !

Sebastian P


7 October 2022

my experience was amazing and magical at the same time, the best guide i could have chosen, 100% it was the best choice, Eid does everything with lots of love,... read more care and always does his best for us to ensure the best experience, and even he is the best cook I've ever tasted, I just have to thank the amazing Eid the best!

renanl622


2 October 2022

Ready for some magic?
Make a reservation or ask us a question